Back to Events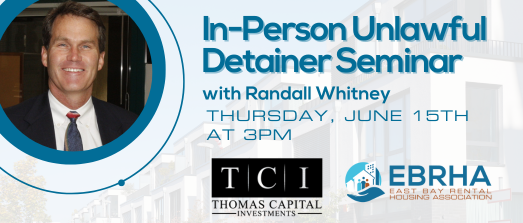 In-Person Unlawful Detainer Instructional Seminar
Instructional about the UD procedure and package completion.
Thursday, June 15, 2023
Event Details
This is an in-person "classroom" style seminar at the EBRHA office. This is not an online webinar. The seminar will go in-depth instruction on the detainer process. A rental property owner must meet many legal requirements before they can ask for a court order that says their renter must move out. This in-person presentation will review the process for those considering an unlawful detainer. You'll be able to ask questions and engage in discussions to help determine if this is the best option for you.
Presenter:
Randall Whitney - Serves as Managing Director of Thomas Capital Investments where he oversees all aspects of Thomas Capital including investments, development, and all financial transactions. He manages all real estate and finance activities for properties held in Hawaii, California, Nevada, and Utah. Randall has worked in senior leadership roles with Thomas Capital Investments since 1996 and helped establish and operate several real estate-focused funds.
For More Information:

3664 Grand Avenue Ste B
Oakland, California 94610
United States
510.893.9873