Getting Back to the Business of Rental Housing

by Chris Tipton
(This article was featured in the 2023 July Rentrospect)
It seems like after three very difficult years, many of our members have forgotten what it means to be a rental property owner. So much time and energy (as a result of the pandemic) has been focused on just getting renters to pay rent. But all of that should change on July 15th when the City of Oakland lifts its eviction moratorium, and all renters will have to start paying, decide to move out, or face eviction. As a result, it may have been years since owners have had to find a new renter. The good news is that over the past few years, new technology to help has emerged! As rental housing providers in a city with some of the strictest rental housing laws, this is a great opportunity to go back to the basics, think about lessons learned, discover new tools, and get back to the business of Rental Housing. A common misconception is that being a rental housing provider is a "side hustle" that takes little effort as the money rolls in. That couldn't be further from the truth. Providing rental housing in the East Bay requires attention to detail, resources, communication, and patience.
One of THE most important steps to being a rental property provider is the screening process. Selecting a reliable and stable renter is much harder than it used to be. More and more applicants are gaming the system and modifying their bank statements, pay stubs, and any document to make themselves appear to be a better financial risk. Renters that falsify documents are 7 times more likely to cause bad debt. Leasing to an unstable renter can cause unnecessary stress, loss of income, time, and push many out of the business of providing rental housing. Eliminate the guesswork and fiction of the process by using document fraud detection companies like Snappt.
The days of pulling a boilerplate lease agreement off the internet and working from spreadsheets are long gone. It's essential that lease agreements are from EBRHA or a real estate attorney. Be sure that it is concise and complies with the rental laws of the city and state. Never rely on verbal agreements on any matters that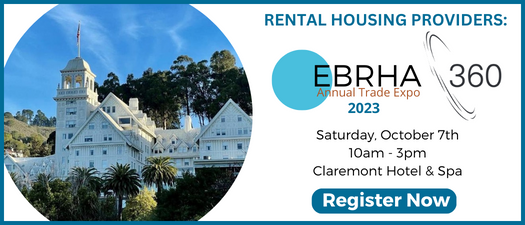 pertain to your rental property or accept money from any resident not on the lease agreement. This could be considered a verbal agreement in a court of law and you could find yourself with squatters because you accepted any amount of money from them. New property management tools like Yardi Breeze are designed for small rental property owners. It helps you organize your lease agreements and other documents, track payments, and saves you time and money.
Now is also a great time to reflect the overall relationship with your renters. Effective communication is critical to maintaining a positive and healthy relationship with your renter. It can help prevent conflicts and misunderstandings, set clear expectations for both parties, and ultimately lead to a better renter experience. Regular email check-ins or just a simple text asking "How is everything?" will go a long way to building strong communication. Only reaching out to your renter when there is a problem or to collect rent aren't ways towards buildings a positive relationship. The worst situation is when your renter is afraid of you because they only hear from you regarding something negative. If your renter is struggling financially, it's important that they feel comfortable to talk with you about it and that you're open to a solution for everyone's benefit.
So, with the Eviction Moratorium in Oakland ending on July 15th, it's time to get back to business and take stock in how you provide this essential service to the community. What lessons have you learned that you can build from and be a better rental housing provider? Finally, understand that providing a home for someone is a great responsibility and can be tremendously fulfilling. The better prepared you are with the necessary tools, skills, and resources to run your business the better the experience will be for you and your renters.
Chris Tipton is the Marketing, Communications, & PR Manager for the East Bay Rental Housing Association.
ctipton@ebrha.com | EBRHA: The Essential Resource to the Housing Community