NEW - EBRHA Small Owner Representation Services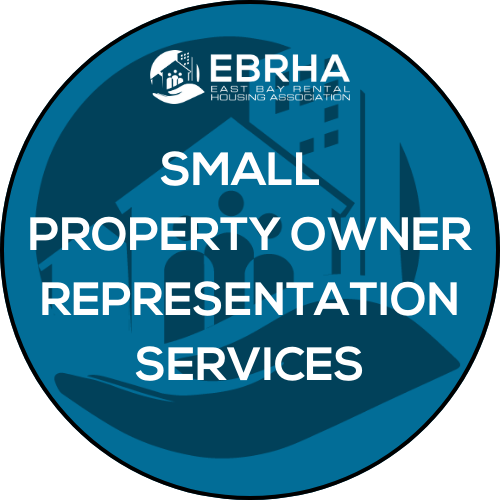 To continue our mission to provide education, resources, community, and advocacy for rental housing providers, EBRHA is very excited to introduce our new Small Property Owner Representation Services (SPORS) program.
Over the years, low-income renters are offered more and more services from the City of Oakland to assist them with rental law compliance and disputes. However, low-income rental housing providers (who offer an essential service), get very little help and are expected to easily navigate our complex rental housing system.
In partnership with the City of Oakland's Rent Adjustment Program (RAP), EBRHA is providing small rental property owner/operator assistance and representation in Oakland Rent Adjustment Program (RAP) petition cases and in Housing, Residential Rent and Relocation Board (HRRRB) appeal proceedings. EBRHA will assist qualified owners/operators with the following:
Education and process review
Case preparation and document filing
Representation at hearings
Negotiating resolutions and agreements
Qualified applicants should ensure they comply with local laws and ordinances that govern rental properties in Oakland. The SPORS program assists small, lower-income rental housing providers pursuing an Oakland RAP claim or having a RAP claim against them from a renter.
Our goal in launching this new pilot program is to educate property owners about their rights and responsibilities, connect them with the resources they need, eliminate dismissed cases due to filing errors, settle issues before they end up before the RAP board, and foster better relationships between renters and owners.
WHY IS THIS PROGRAM IMPORTANT?
Building "affordable housing" in the Bay Area is a hot topic among pro-housing organizations. Protection, Preservation, and Production are the "3 Ps" in housing and the basic framework strategy to ensure there is enough housing for all residents. At EBRHA, we understand that true "affordable housing" has already been built. These are the older duplexes, triplexes, or quads owned by locals, many of whom are people of color, immigrants, or retirees that also live in an apartment on the property. Most of these owners provide housing that is typically rented at below-market rates and make it possible for low-income families to live in the area. These are the property owners that actually provide "affordable housing," and it was crucial to EBRHA that we preserve their services through this program.
To that end, EBRHA presented a proposal to the City of Oakland and worked to develop this pilot program in cooperation with the Rent Adjustment Program to finally create a resource to help low-income property owners and protect them as a vital element of the rental housing community.
APPLY TODAY
EBRHA is accepting applications today and applying takes less than five (5) minutes. The program is also open to non-EBRHA members. Please pass the information along to other rental property owners you know who may need RAP assistance.
Eligible applicants must own eight (8) or fewer rental homes and have a total annual income below the Area Median Income (AMI).
For more information about the SPORS program and how to apply, contact our RAP Specialists: at
510-347-8505 | ERAP@ebrha.com